Leopard Series Mini Wall Pack/ Flood Light Now on DLC Listed
Toms River, NJ | July 7th, 2016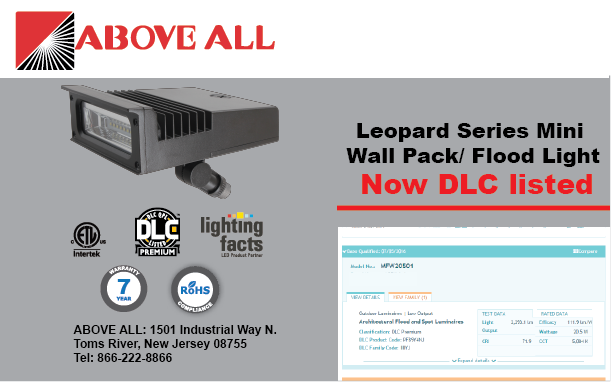 The Leopard Series is designed to replace 70-150W MH luminaires while saving up to 88% in energy costs. The Leopard Series can be customized for virtually all flood light and wall pack lighting applications. This series is ideal for outdoor applications such as building perimeters, loading areas, driveway signs and building flood lighting.
Visit Leopard Series Mini Wall Pack
Visit Leopard Series Mini Flood Light
About ABOVE ALL:
ABOVE ALL leads in the R&D, manufacturing, customization, and marketing of commercial LED luminaires. ABOVE ALL has over 20 years of lighting experience. Headquartered in Toms River, NJ and a machine shop in Belvidere, NJ, it owns 600,000sf ISO9001 and ISO14001 certified factory in Asia, for rapid customization of controls, optics, brackets, and diffusers.